The Caminito del Rey, which translates to 'The Kings little Path' was constructed in 1905 and was aptly named after King Alfonso XIII crossed the walk in 1921.
The walkway fell into dis-repair and despite being closed to the public, people still found a way to cross it, resulting in many tragic deaths.  Until it's restoration in 2015, the Caminito was often referred to as 'The World's most Dangerous Footpath' and the 'One of The World's Scariest Hikes'.
The Caminito re-opened in 2015 following a 4 year restoration project and is now much more of a scenic walk than the terrifying trek of years gone by. Since it re-opened around 300.000 tickets are sold annualy for this famous walk, it even attracts celebrities.
Recently UK celebrity chefs Gordon Ramsey, Gino D'acampo and Fred Sirieix filmed part of the popular ITV show 'Gordon, Gino and Fred: Viva Espana! taking on the walk.  The trio were filmed crossing the notorious suspension footbridge, the 'Puente del Rey' with a terrified Gino hilariously crawling along while Gordon and Fred look on in hysterics.
The walk is around 60km inland from the beautiful city of Malaga, is over 7km long and is made up of forest paths and footbridges most of which cling precariously to the gorge walls 100 metres above the River Guadalhorce.
Still not convinced it's safe enough??? If my 'terrified of heights' husband can do this trek, anyone can.
Getting to the Caminito del Rey
Getting to the Caminito del Rey is easy, there are a number of different options to consider.
Car – A scenic drive through the Malaga countryside to El Chorro, depending on your start should take less than 1.5 hours.
Train – From Malaga's Maria Zambrano train station, direct to El Chorro. The journey takes around 40 minutes direct and trains run several times a day for between €3 and €5.
Bus + ticket – By far the most stress free way to get to the Camino is to book a guided bus transfer with your entrance ticket to the walk included. This way someone else can take the hassle out of the planning, all you have to do is turn up at the meeting point at the agreed time to be picked up and taken there.
Tourists and locals have been coming to the area around the Caminito for years, especially in summer time when the turquoise reservoirs offer much needed respite from the hot sun. There are also water sports including a giant inflatable water park on the lake from June to September.
There are plenty quaint little campsites, b&b's and guest houses in the area known as the Guadalhorce valley.  The landscape is unique, breathtaking in fact and its all just so peaceful and calm.
Recommended Hotels
How to book your tickets
Spaces are limited for the Caminito del Rey for safety reasons and they only allow around 50 people every half hour. Slots are released in 3 or 4 month batches and weekends get booked up quickly so there's no point in just turning up hoping to get a slot.  You really must book ahead.
Booking is easy, just go to the calendar choose your date and time and select the number of tickets you want.  Pay with a credit card and print off the confirmation e-mail to take with you.
We finally did the walk on chilly but beautifully sunny Saturday afternoon in December, after our previous booking a year earlier was aborted when my daughter woke up covered in chicken pox spots that morning.
If you can't make it for any reason, they generally don't offer refunds or alternative dates.  It's tough luck basically as we found out after we were a 'no show' the first time. However if the walk is closed due to weather conditions, you can re-book for an alternative day.
Weather in Ardales, as it's in land can be a few degrees cooler in winter than down on the coast and in summer expect it to be hotter, so be sure to check the forecast.  On the day of our walk temperatures in Malaga were 16 degrees but only 12 degrees in Ardales that day.
I was glad I threw an extra layer into the boot of the car just before we set off because with the blustery wind it felt much colder.
Arriving at the Caminito del Rey
The Camino del Rey walk is linea, you can only start the walk at one end, this is the North access point, you finish the walk at the South exit point.  For me the most logical thing to do if you arrive by car is this…drive to the North entrance, park your car and start the walk through the entrance tunnel.
When you finish the walk at the South end, directly opposite the Garganta Hotel is a bus stop, buses run several times per hour and run none stop between the North and South points, taking around 15 minutes each way.  You can pay the driver in cash, the cost is €2 pp (correct price for 2023)  and the bus will take you right back to  the North access right where you started.
If you have time however, I can personally recommend a well deserved pit-stop in the outdoor terrace bar of La Garganta Hotel, where you can rest your tired legs and marvel over the amazing walk you just completed.
We wanted to grab a light bite before starting the walk which was scheduled for 2pm, and knew there were some restaurants at the North entrance. Restaurant El Kiosko overlooking the lake was the perfect choice as next to it is the tunnel which you need to go through to start the Caminito del Rey.  Here you can pick up take away drinks and snacks too, bear in mind after this point, there is nowhere else to buy refreshemnts.
We arrived about 12.30pm and ventured upstairs at El Kiosko where they had a huge open fire so we grabbed a table right next to it and ordered. Portions were huge and we found it a bit much before embarking on a 7k hike.
There is a snack bar downstairs and also a grab and go type counter where you can pick up supplies like water, canned drinks, snack bars etc to take with you. There are also toilets downstairs at the entrance to the tunnel.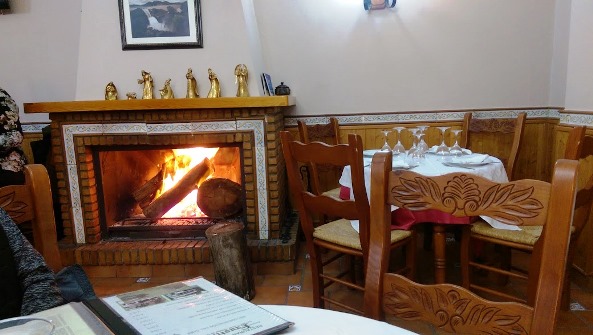 Allow yourself plenty of time
From this point (the tunnel), you still need to allow yourself 30 minutes before your time slot as this is NOT the start of the Caminito del Rey. It's a 2.5 km scenic walk through forest to reach the starting point which will take 30 minutes at least.
Once at the starting point there were already loads of people waiting and there are staff to check your tickets, give you helmets and put you in the correct group. There are a lot of people that are part of guided tours which you can also book through the website, the tours are in English and Spanish.
Next they separate people into English and Spanish speakers for a brief safety instruction where the guide told us to allow around 2.5 hours to complete the walk, then you are off on your way.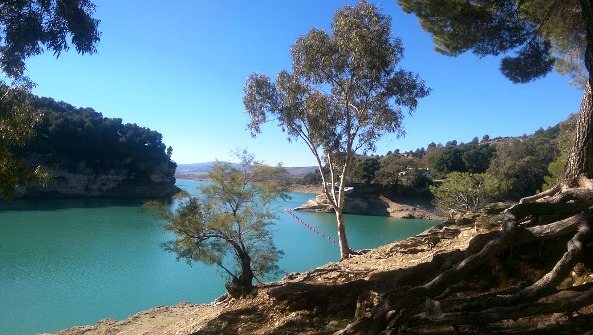 Almost immediately we came to a stretch of the route where the footpath changes to a wooden platform secured on top of steel rods which are pinned into the side of the steep gorge. There'a a mesh fence and handrail about waist high and most of this is suspended around 100 feet up.
It was only at this point I realised my husband of 12 years or so was actually really terrified of heights, this was real proper fear written all over his face.
The scenery along the route is amazing, my husband, unfortunately missed out on most of it because he could barely bring himself to look up or down. The vultures, buzzards and eagles circling above are ever present and I wondered if they were there waiting patiently for victims to fall.
As mentioned, the footpath fell into disrepair years ago and was closed in 2000 as it was so dangerous.  You can actually see the original path complete with holes, rusty metal poles and huge sections missing right below as you walk the new pathway.
Terrifying to think adrenaline junkies attempted this walk while it was in disrepair, despite the €6000 fine if caught, not to mention the huge risk involved.  Memorials are displayed to acknowledge 4 of the climbers that lost their life….
No fear now though, It is completely safe once again and very well organised from start to finish.
The Walkway of Death
About 2km from the end as the path snakes around a bend it reaches a crucial point where walkers cross from one side of the gorge to the other.  The only way to do this is by walking over a suspended bridge about 10 metres in length and hundreds of metres high known as 'The Walkway of Death'.
I've included a video showing a great overview of what to expect!
There are guides either side of the bridge making sure that everyone crosses safely. These guides also give the option for those too scared, to turn back, but with only 2 km to go from here, you'd be silly to turn back now.
For me, the bridge was my favourite bit, it was such a great opportunity to take photos and video from all angles. Suspended mid air between the rock face with absolutely nothing interrupting your view.
The Walkway of Death.
Once safely on the other side and during the final km stretch, the Caminito takes a dramatic path along a very straight and narrow cliff, then finally comes back to solid ground for the final few hundred metres.
There are some information boards explaining how and when it was built and about the restoration. Stop and look at them as they really do help you to appreciate the almost impossible task of its construction.
Getting back to your car
All that is left to do is follow the signs for the El Chorro train station, its easy as its a straight road. Pass the car park and a camp site, then you'll see the train station on the left with a handy little bar to grab a quick drink.
Next to the station is where you pick up the bus to take you back to the start. There were already people waiting when we arrived and a bus had just pulled in however there was no room for us so we had to wait 30 minutes for the next one.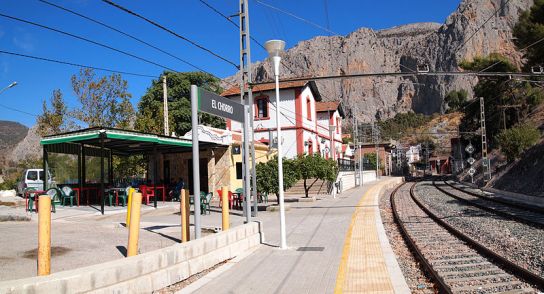 As previously mentioned, if you have a little bit of time a fantastic place to grab a bite to eat and a drink is La Garganta Hotel and restaurant, directly opposite the bus stop. Walk round to the outside terrace for some amazing views over the Caminito and a well earned drink.
I really wish I had known about this hotel before our visit as it's the perfect location to the Caminito del Rey to stay over for a night or two and explore the area more.  It has so much rustic charm and gorgeous views over the lake and the final stretch of the Caminito del Rey.
I've rounded up the best hotels and accommodation ideally located to explore this amazing national park area
The bus was punctual and the journey back to the car/North entrance took only 15 minutes.  The bus takes you just past the car park and drops you at El Kiosko and the entrance tunnel to the start of the route.  The last bus, at the time of writing, leaves at 7pm, as tempting as it is to stay for another drink on the Garganta terrace bar, you would be left stranded if you missed it.
All in all the walk took a total us of 2 hours 30 minutes, including the short walk leading to the start of the Caminito del Rey.
If I could summarise, this walk is as close you will ever come to feeling like you are part of a Indiana Jones movie.  The clear glass viewing platform, if you dare to step onto it is a reminder of how unnaturally high up you are, even more apparent if you are afraid of heights.
It is unlike any other place you will ever go to and even though some say it has lost its edge since it's restoration. If you are an adrenaline junkie then I believe you cannot come to the Malaga region and not walk the Caminito del Rey.
Essential Information
Bring plenty water, snacks and sunscreen
Small backpack (large bags are not allowed)
Comfortable clothing and footwear (hiking shoes are best)
Pets are not allowed
Children under 8 years old are not allowed
There are no toilets along the path
The walk will occasionally close in the event of bad weather – refunds are not offered
The last bus from the South to North is 7pm, the bus accepts cash only.