7 of The Most Authentic Flamenco shows in Andalucia
Flamenco is a traditional style of Spanish folk music originating in the region of Andalucía around 500 years ago. This very flamboyant, seductive art thought to have been originated by Romani gypsies includes singing (cante), guitar playing (toque), dancing (baile) and handclapping (palmas).
the most common dress usually features a polka dot pattern, their hair will be in a tight bun and they will always be wearing high heels.
The word 'Flamenco' conjures up images of swarthy skinned dancers in colourful gypsy style dresses with silk shawls performing a type of mysterious dance.  Accompanied by male guitarists and singers in dark suits.
Flamenco is actually quite misunderstood and it is only in more recent years that it has become popular all over the world; in fact apparently Japan has more flamenco academies than Spain.
If you are lucky enough to be in Andalucía during one of the many fiestas you'll see the local women and children parading the streets dressed in beautiful brightly coloured Flamenco dresses, the most common dress usually features a polka dot pattern and their hair will be in a perfect bun.
This tradition is taken very seriously in Spain with some dresses costing thousands of Euros while others have been passed down through many generations.
There are many flamenco shows during the summer months in Spain although some will not show 'true' Flamenco. So I have put together a guide to the best places in Malaga, Granada and Seville to see this ancient Andalucian tradition in its truest form.
Where to See Flamenco in Malaga
this is where you will get to witness 'true' Flamenco
What better way to experience a flamenco show than out in the open air during the warm summer months. The month long Bienal de Flamenco is held in Malaga
every other year
and attracts some of the best flamenco artists in Spain.
The event is held in Malaga city itself bust also in nearby towns such as Nerja, Fuengirola and Ronda, this is where you will get to witness authentic Flamenco dancing. The last event was September 2017 and will return to Malaga in 2019.
Restaurant Tipi Tapa, Fuengirola
Tipi Tapa is a very well established restaurant in Fuengirola with an excellent reputation for offering a superb selection of over 150 different tapas.  It offers weekly Flamenco shows usually Tuesday, Thursday and Saturday nights.
The flamenco here is refreshingly authentic and consists of dancers, singer and guitarist.
The show lasts for approximately 1 hour and prices start from 20 Euros, the great thing about the shows at Tipi Tapa is the fact that they start at 19.30…great if you have young children.
The home of live Flamenco in Malaga city, Los Amayas offers two flamenco shows every evening named 'Picasso and Flamenco' paying tribute to the Malaga born artist.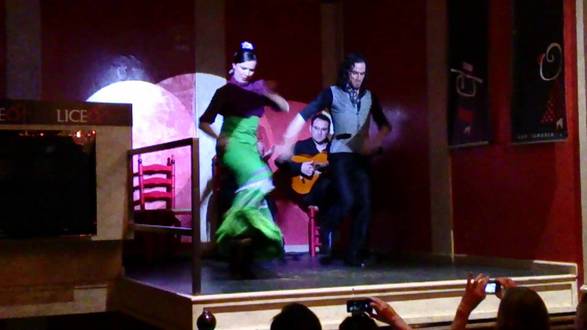 Los Amayas is the perfect place to see some truly authentic flamenco at its best; show times are nightly at 7pm and 9pm and include the show with a drink for 25 Euros.
Torrequebrada Hotel, Benalmadena
Held in the Fortuna room of the Torrequebrada hotel, this popular flamenco show performs throughout the summer months and has twice nightly shows at 9pm and 10.30pm.
The show itself is a Carmen Mota Ballet production and takes audiences through a range of Latin American dance and Flamenco. The performance starts with a range of Spanish classical styles of Flamenco followed by a mix of different styles popular in South America but introduced by Spanish emigrants.
An excellent venue which was specially designed for this event and afterwards guests are invited to enter the hotel casino free of charge. Ticket prices include a drink and start at 21 Euros.
Sala El Embrujo, Alhaurin de la Torre
a tribute to an old famous cafe 'Chinitas' in Malaga A large venue with 40 years experience located in a village of Alhaurin de la Torre a few minutes in land from Malaga. The show featuring 11 different artists lasts around 2 hours and is a tribute to an old famous cafe 'Chinitas' in Malaga which was a meeting point for actors, writers and flamenco artists who put on performances here.
The restaurant at Sala El Embrujo has designed several different regional menus to create an authentic experience which is a perfect accompaniment to the flamenco show; the service, food and of course flamenco here is excellent and is priced from 35 Euros.
Where to see Flamenco in Granada
Alhambra Palace and Flamenco show with Dinner
One of the best Flamenco shows in Granada has to be la Canastera "The Cave".  Steeped in history, the cave was once the home of Maria and her family, by night tourists would come to the cave to witness Maria perform her unique and mesmerizing Flamenco.
Preserved in its original features by Maria's son, the cave is still home to the best Flamenco show for miles around and now features 7 artists performing singing, dance and guitar.
Combine this fantastic Flamenco show with a visit to the famous Alhambra Palace of Granada, the perfect day to experience the rich culture and history of this beautiful city.
Where to see Flamenco in Seville
The Tablao Flamenco Los Gallos is the oldest Flamenco show in Seville and is one of the most respected internationally.  There is such high demand for this show that every night there are two performances each lasting an hour and a half at 8.30pm and 10pm, priced from €35 including a drink.
The building itself is in a beautiful square int he heart of Seville and the intimate room provides a fantastic atmospheric performance you will never forget.