Puerto Banus: An Inside Scoop on the Hippest Beach Parties, Bars and Clubs
Puerto Banus located just 7km from Marbella is still the ultimate luxury holiday destination in Spain, and a firm favourite party destination.  Banus attracts everyone from celebrities, stag and hen parties and of course the entire cast of TOWIE who make their annual descent on the famous beach parties and clubs.
So if you want to party with the rich and famous, read on to discover the best places to go for the best champagne spray parties, beach clubs and a little bit of celeb spotting.
Banus by Day
In the heart of Puerto Banus overlooking the beach and expertly designed around a huge swimming pool, Ocean Club is an impressive sight to be seen.  Still a firm favourite among the TOWIE crew and the who's who of the Marbella party scene.
Not just a pool party, Ocean Club offers guests a great dining menu in a beautiful setting where French cuisine fused with Mediterranean as well as Asian dishes are on the menu as well as a great wine and cocktail list to boot.
Ocean Club is open 7 days a week through summer kicking off with their opening party, usually the last weekend of April. OC Saturdays' where resident DJ's up the tempo are a must. Not forgetting Champagne spray party Sundays throughout the year when a luxury VIP bed can set you back as much as €7950.
2017 bed prices during week days are much cheaper ranging from 110€ for a small round bed for 3, up to €875 for a super VIP square bed for 12 including 3 bottles of 'Dom Pom'.
Check back in Spring for 2018 rice updates!
At the entrance to the port next to the Benabola apartments, you can't miss Plaza Beach's prime spot.
Recently re-furbished to an impeccable standard the who's who of Marbella and Banus are regular visitors to the weekly parties which take place here.
Did you catch the episode of TOWIE's Gemma Collins, James Argent and Lydia Bright amongst other TOWIE cast members filming an episode here this summer?
Set on the beautiful beach front area overlooking Puerto Banus marina offering guests a choice of beds ranging from a modest 20€ for a single to 500€ for a super bed complete with private Jacuzzi.
If you really fancy splashing the cash, opt for one of the drinks packages at 600€ including a Magnum of Belvedere and Moet.
Slightly lower key than Ocean Club and cheaper too, if you don't fancy partying, pop in for a drink or a bite to eat in Plaza Beach's restaurant instead.
One of the original and still the best beach club in our opinion now in its second decade, Nikki Beach has recently undergone a huge renovation project which includes the addition of a fantastic pool.
Nikki beach  is a world of luxury and glamour, attracting party goers from all over, some arriving by private super yacht.  If your budget can only stretch to a one time visit…their 'amazing Sundays' are definitely not to be missed, every Sunday throughout the season.
A great place to go for lunch or evening meal with families and even children are made very welcome during the week but this place really comes into its own on weekends.  Attracting up to 1000 party goers in the height of summer, some rich and famous, others who have saved up all year to come to this spectacular beach party.
Resident and famous guest DJ's play soulful house music from early afternoon before upping the tempo as night falls, while Nikki's dancers provide the entertainment.
Prices are not for the faint hearted, with a chicken sandwich costing 19€ and the cheapest starter costing 15€ not to mention the drinks prices…but hey it's a onetime thing (maybe) so push the boat out a bit and enjoy probably the best party you will go to all year!
Banus by Night
A 5 minute walk from the main entrance to the port and you will arrive at La Sala Beach (formally Buddha Beach), La Sala is a gorgeous beach club with a cool and funky vibe.
Slightly smaller and offering a more intimate low key atmosphere than the likes of OC and Nikki Beach but still pulls in a good crowd especially on party days. Just look at the photos of Craig David on the decks this summer to see how packed it was.
If you want to spend the day at La Sala by the Sea then reserving a bed is essential, or just pop into one of their 3 bars overlooking the stunning beach for a yummy sun-downer cocktail, all priced at 12.50€.
Opt for one of their healthy and delicious fruit smoothies of you are T total and enjoy the sun setting out at sea.
Alternatively on the other side of the port, try Astral cocktail bar this is a really fun and completely unique bar and cocktails happen to be their specialty.
The whole thing is made from a wooden galleon with fantastic high wooden bar stools on wheels, that you almost need a ladder to get up onto, serving the largest and fanciest cocktails I have ever seen, you've just got to see it for yourself.
These cocktails pack more fruit than your local greengrocer!
La Sala is one of those places that have got it just right; this place is buzzing every night all year round with both holidaymakers and locals of all ages coming to enjoy a meal or just a drink in the bar.
On a warm evening the terrace at La Sala is a great place to get together with friends and the adjoining club Aqwa Mist is a great post dinner hang out attracting some famous faces too.
La Sala's excellent a la carte menu has something to suit all taste buds at very reasonable prices for Puerto Banus,  even their salads are mouth watering, I recommend the following…
Crispy Beef Salad with Asian Vegetables served with Soy Chilli and Coriander Dressing
and for main course…
 Pan Fried Cajun Swordfish on a bed of Sautéed New Potatoes topped with Guacamole and Crispy Onions…(this was to die for).
La Sala offer a high standard of evening entertainment most nights in the week either in the main bar and restaurant or in the piano bar.  Located just a few minutes' walk up from the port below the Nueva Andalucía bullring, or take advantage of their free valet parking and pull up right outside if you have a car, booking recommended.
Returning summer 2017 – La Sala in the Sky
You have to see it to believe it! After a successful summer 2016 offering a dining experience with a difference, La Sala are bringing back La Sala in the Sky for summer 2017.
Dine 50 metres up strapped into your seat and suspended from a crane while enjoying THE best panoramic views the coast has to offer.  With seats for 22 diners, the platform complete with a chef and team of serving staff offer you the choice of a Cava & Canapes experience priced at €99pp or a 5 course sunset dinner priced at €250pp.
So if you are celebrating something this summer, La Sala in the Sky is definitely the way to impress your guests.
Best For Post Dinner Drinks – News Cafe Puerto Banus

Situated on the front line overlooking the million pound yachts and sports cars, News Cafe is a glitzy and glam hot spot to have a few drinks before you hit the clubs.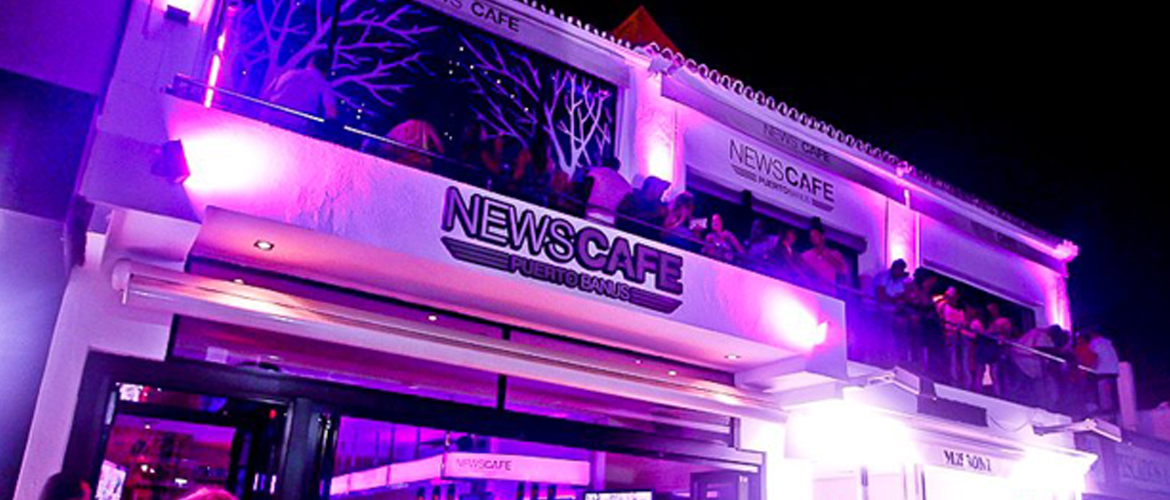 On 3 levels, downstairs is a chill out bar great for quiet drinks and conversation, the 1st floor is where it's all happening offering the best views over the port of Banus on their open air balcony, complete with dance floor and table service.
On the 2nd floor is a fantastic new addition to News Cafe, the roof terrace. With an amazing sound system, comfortable seating and table service on warm summer nights make for the perfect drink venue.
News Cafe has a great party vibe playing the best in funky house music from their resident DJ's, call ahead and let the staff arrange a VIP table if you feel like partying in style or are celebrating.
What's not to like about Pangea, in the heart of Banus with the panoramic views of the port from its simply stunning open air roof terrace with DJ's spinning some seriously nice tunes to get you in the mood.  Inside the club is just as stunning as out, perfect for the slightly chillier evenings early or late summer.
The club opens at 10pm but really starts to get busy around 12.30am so make sure you've had a siesta before coming out to party at Pangea as I guarantee you will not want to leave.
If you want to see and be seen then Pangea is the place and if you want VIP tables then you must book ahead in summer months as this place is the most popular club in Banus….not to be missed.
Where to stay to be among the action
If you want to be a stones throw from La Plaza and Puerto Banus front line and just a 5 minute walk from Ocean Club, then Benabola Hotel and Suites are the place to be.  They offer rooms for 2 adults or 3 bedroom apartments sleeping 5, perfect for a group to share the cost.
Accommodation here is clean, contemporary, spacious and has a fab rooftop bar overlooking the port.
Sisu Boutique Hotel has gained a cult following over the years with famous names spinning the decks every summer.
The hotel has different party events going on throughout high season and attracts a very cool crowd.  The reasonably riced rooms are ultra modern and spacious and can accommodate between 2 and 6 people.
I'd love to know what your favorite hang out is in Puerto Banus, let me know in the comments section below!