Costa del Sol: Top 5 Popular Holiday Resorts On The South Coast of Spain
Explore the top Costa del Sol resorts
There's so much more to the Costa del Sol than stretches of golden beaches and scorching sunshine.
Discover art, culture and top class cuisine in Malaga city, keep the kids entertained in Benalmadena and party til' the early hours in Puerto Banus. Malaga province has so much to offer and there's something to suit everyone.
Where is Malaga?
Malaga is a province on Spain's southern coast (Costa del Sol) overlooking the Mediterranean sea. It's the second largest city in Andalucia, Seville being the largest and the capital of Andalucia.  Malaga is famous for many things, the city itself is Pablo Picasso's birth place but Flamenco, Bullfighting as well as a rich and diverse culture have also put Malaga firmly on the map.
The most well known holiday destinations near Malaga airport are to the West of the city.  They include Torremolinos, Benalmadena, Fuengirola, Marbella and Puerto Banus.
In my 15 years living in various towns on the Costa del Sol I have gained lots of experience and knowledge of the local area.  Below I have written an extensive guide (updated for 2023) on how to best enjoy each of these 5 fantastic resorts and why at least one of them is perfectly suited for your next holiday.
Malaga – Best for culture & sight seeing
Malaga was until recent years overlooked as a holiday destination, with tourists favoring the nearby beach resorts.  But the city has come into it's own in the last 20 years with the help of modernisation and investment. Now the city offers a fantastic mix of both modern and traditional and should definitely be on your bucket list for a European city break.
Arriving in Malaga is easy, located just 8km from the airport the train will take you from the airport into the city centre (Malaga Centro station) in around 15 minutes.  Or hop in a taxi, there are always plenty outside the airport waiting to take you where you need to go.
…the best way to get around the city is on foot.
Once you arrive in the heart of Malaga the best way to get around the city is on foot.  Make your first stop the famous marbled streets around Calle Larios to see some beautiful architecture, fantastic shops and a great selection of pavement cafes to grab a quick refreshment before moving on.
Don't be afraid to venture down some of the side streets too where you will find some individual boutique shops and more intimate little cafe bars offering their great value "menu del Dia" (Menu of the Day).
Most cafes will display their daily menu outside on a chalk board and for as little as €10 feast on a traditional Spanish meal of starter, main course and dessert, usually with bread and a glass of wine or beer included.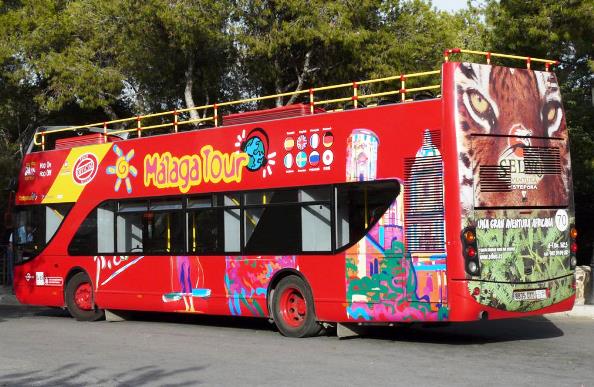 Another great way to get around is by using the city's hop on- hop off bus tour.  Grab a seat on the open top deck and see the sights with an uninterrupted view.
There are two routes, red and green taking you to the best sites Malaga has to offer including the cathedral, pretty streets, museums and beaches all at your own pace.
Eat, drink & party
El Pimpi restaurant, an institution in Malaga, is one of the oldest bars and wine cellars in the city.  The bar itself is decorated with hundreds of wine barrels and although the restaurant is most famous for its authentic tapas,  you can also sample a glass of traditional sweet Malaga wine.
The new marina area of Malaga has been an instant success, cleverly designed with a great selection of restaurants and bars appealing to the many cruise ship passengers that dock here as well as locals.  The famous Pompidou art centre is a lovely addition to the port, the building alone is striking and at just €9 entrance it's a must see if you love modern art.
But to escape the heat and hustle & bustle, head down to one of the cities great beaches.
Malaga port now boasts a plethre of boutique bars and restaurants for all tastes.
The nearest is La Malagueta which gets quite crowded in summer, so if you are looking for somewhere a bit quieter take a stroll along the promenade heading East towards El Palo.  In summer the sight and smell of "Espetos", sardines grilled over an open wood fire on the beach is unmistakable. Malaga port now boasts a plethre of boutique bars and restaurants for all tastes.
After dark is when Malaga city really comes to life, the nightlife or 'La Marcha' doesn't really get going until the early hours with clubs going strong until around 6am. Don't worry though, bars and restaurants are still buzzing from early evening when you will find families and couples dining.
If its a quiet meal and a few drinks you prefer the city is bursting with places to enjoy all types of cuisine and there are some fantastic roof top bars which are the place to be for sun-downers and great views of the skyline.
One of Malaga Travel Guide's favourites has to be the rooftop bar at the AC Hotel Malaga Palacio, the views are the best in Malaga, as are the Gin & Tonics!  In fact, why not book a room at this lovely city centre hotel and be even closer to the bar.
Where to stay
The beautiful Room Mate Valeria is in possibly the best location in the city, bang central to almost everything! Within a few minutes walk of the fantastic marina, old town, beach and Malaga Cathedral.
It also has a great roof top bar and pool, perfect for escaping the busy city streets below while enjoying a pre or post dinner cocktail.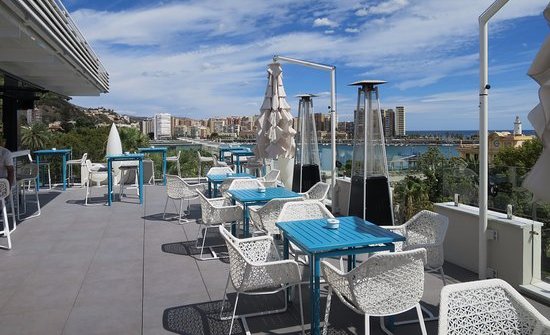 This is how Booking.com score the Room Mate Valeria in Malaga.
Room Mate Valeria – Malaga
Malaga, SPAIN
9.0     Facilities
9.6     Cleanliness
9.3     Comfort
8.3     Value
9.7     Location
9.1     Free WiFi
9.2     TOTAL
With over 1700 verified top reviews the Room Mate Valeria is one of my top picks for a Malaga City break. For an in-depth go to my insider hotel selection.
Art and Culture
For art lovers, look no further than the museum of Pablo Picasso in the city centre, Malaga was the famous artist's birthplace and the museum has over 250 pieces of art donated by Picasso's family members.  If Picasso isn't your thing, there are no less than 20 other museums in Malaga.
Malaga Cathedral is a must, don't be put off by its €5 entrance fee, it is well worth a visit inside to fully appreciate this ancient Cathedral. There are guided tours (some in English) at certain times of the day to the rooftop and also night visits are available.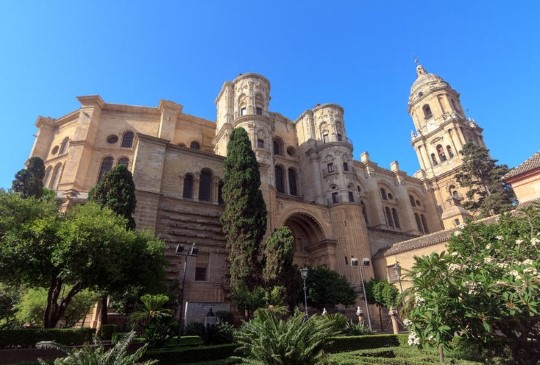 Just a few minutes walk from the Cathedral in the historic centre stands the impressive Alcazaba Moorish Fortress with fantastic views over the port and city.  For little over €2 entrance you can easily spend a morning strolling around the lovely courtyards and gardens admiring the intricate tiles and little water channels imagining what life was like in the 11th century.
Don't Miss – Malaga Hot Spots
Maria Zambrano train station – your gateway to the rest of Spain
The Alcazaba – 11th century Moorish fortress overlooking the city, open to the public
Calle Larios  – Malaga's most prominent street, designer and high street shopping at its best
El Pimpi Restaurant – It is one of the oldest bars and wine cellars in the city, the bar itself is decorated with hundreds of wine barrels, fantastic tapas, cocktails, wine, what more could you ask for.
La Marcha (nightlife) – Rooftop bars are the place to be for sun-downers
Museum of Pablo Picasso – Right in the city centre, Malaga was the famous artist's birthplace and the museum has over 250 pieces of art donated by Picasso's family members.
Bike tours Malaga offer…well just that, various guided tours of the city including the Malaga wine tasting tour…or just hire a bike from them and go explore.
Torremolinos – Best for cool beach bars & seafood lovers
The great thing about Malaga airport is its proximity and ease of access to so many great coastal resorts, Torremolinos being the closest.
This well known beach resort was the first real Spanish holiday destination for Brits looking for a bit of sun and sangria way back in the late 1950's.  However tourists soon abandoned the resort in favour of nearby Benalmadena and Fuengirola.
But Torremolinos has evolved in recent years, now offering upmarket hotels, shopping areas and restaurants to try to appeal to a wider market.
Easy to reach, just hop on the train at the airport heading West and in a few minutes you will arrive at Torremolinos train station in the centre of town.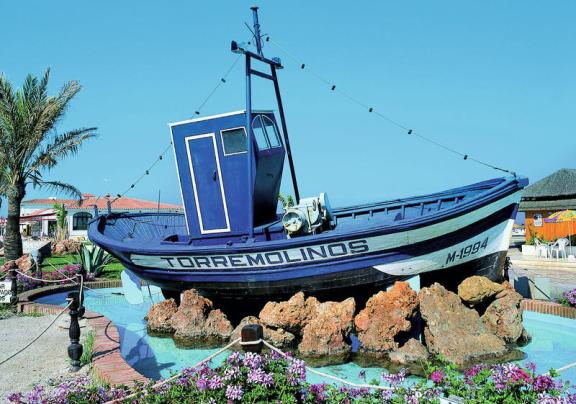 The widest beaches on the Costa
The area known as The Carihuela which borders Torremolinos and Benalmadena is lively and modern..
It features a long promenade,  overlooking a wide, clean sandy beach with lots of funky chiringuitos (beach bars) attracting a young crowd in summer looking for a beach party atmosphere.  Added bonus is that most of the Carihuela is pedestrian only, making a great choice for young families too.  Prices are competitive since there is so much choice and a refreshing mojito can cost from as little as €6.
If shopping is more your thing you're in the right place, The Carihuela has tons of boutique style clothes and shoe shops to tempt you, all at very reasonable prices.
Hotels a plenty
The whole beach front is lined with a great selection of hotels, most with direct beach access and large private pools.  The Sol Principe Hotel is good value and offers also half board options and family rooms. It has a great pool scene, kids club and fun entertainment for the whole family. It's also directly over the road from a lovely wide sandy beach.
I went 'undercover' at the brand new Clubhotel Riu Costa del Sol recently to bring my readers an honest and unbiased review of this huge hotel.  It's perfectly located right on Torremolinos beach front and only 10 minutes walk to La Carihuela.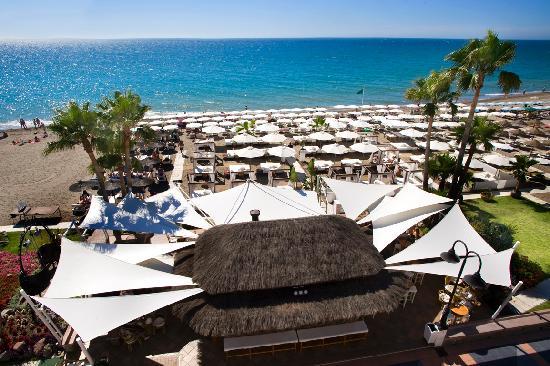 Things to do
Torremolinos offers plenty for the kids to do; spend an adrenaline filled day at Aqualand, the biggest water park in Malaga with kamikaze's, rapids and a great kids zone the little ones will love. Not just for kids though as Aqualand has some seriously scary slides that even the biggest thrill seekers might think twice about.
Bateria Park stands high overlooking The Carihuela and the beach, its completely flat with walking and cycle paths around the perimeter, a large kids play area and a man made lake with boating for just €1 for 30 minutes.  At the far end overlooking the beach still stands a watch tower with artillery guns and a tunnel the kids will love to explore.
The crocodile park is a really fun place to spend a morning or afternoon if you want to escape the pool or beach.  Located next to the Aqua park you can hold a baby croc, see different demonstrations and come face to face with the largest Crocodile in Europe.
Plaza Mayor shopping and entertainment complex is a great family day out, hop on the train in the direction of the airport and you'll reach it in under 10 minutes. Recently opened next to Plaza Mayor is the fantastic Mcarthur Glen designer shopping outlet.
You'll find a cinema, bowling alley tons of restaurants and an entertainment area, open from 10am til 1am. There's a good mix of high street shops like Zara, Mango, H&M as well as some discounted designer stores in the Mcarthur Glen outlet.
Don't Miss – Torremolinos
Playa Miguel / El Horno summer beach bars
A trip through la Carihuela
Calle San Miguel – A lovely pedestrian street full of shops, cafes and restaurants, very busy in peak times but wonderfully atmospheric. You can even grab a 2 pint beer!
Eating at one of renowned fish chringuitos
Parque la Bateria – Lovely park with a a bit of history too and no animals allowed so very clean.
Aqualand – Huge water park with slides and rides for every age group but beware it can be very busy in August with long queues for slides.
Benalmadena – Best for families
Benalmadena is the place to go if travelling with children, with loads of great attractions for the whole family they'll never be bored.  Take the train from the airport and get off at Arroyo de la Miel station which is the town centre of Benalmadena, the coast is just a 5 minute taxi ride away.
Where to stay in Benalmadena
One of the best value hotels on this stretch of the coastline is Holiday Premium Resort, my family and I have stayed here loads of times ourselves for a weekend break because it has so much to offer. There's a water park, dedicated toddlers pool and splash area, free kids club, games room, several restaurants and family entertainment, too many things to mention. It's a good choice if you are traveling with kids and teens of different ages as they'll never get bored.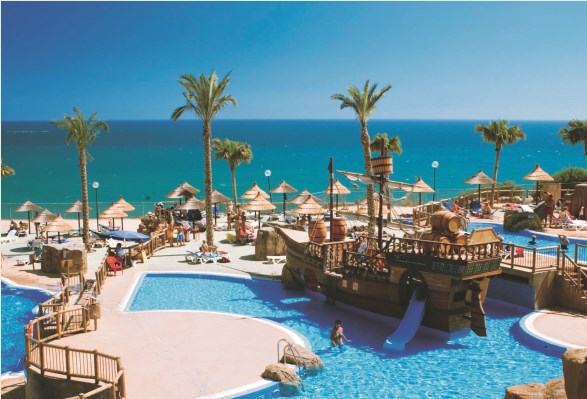 For little bit of luxury check out the Vincci Seleccion Aleysa, this boutique hotel and spa is right on the beach and is just 10 minutes walk to the Puerto Marina.  The hotel's restaurant and pool are stunning and it actually gets 9.5 stars on booking.com, something which you rarely see.
Things to do
Tivoli world amusement park and cable cars up to the top of the mountain with shows featuring birds of prey are both within walking distance of the station in Arroyo de la Miel.
Tivoli world is a medium sized theme park built in the style of a traditional Spanish village.  It features lots of rides and roller-coasters for all ages and has a good Chinese restaurant inside which does a great set menu for less than €10 per person.  There are various shows throughout the season too, check out the website for opening times as hours vary throughout the season and they only open evenings in summer.
Every Friday morning at the Tivoli world car park is a great local market.  Beach towels & bags, clothes, shoes, sunglasses, even fresh fruit and veg, just don't forget to barter for a good price.
​A little bit further but still accessible on foot or a short taxi ride is ​Selwo ​Marina conveniently located next to Paloma Park.  Selwo is great for all the family, see the penguins at feeding time and make sure you don't miss the main attraction, the fantastic dolphin show to music.
For great rates on tickets at Selwo Marina you can book right here using the calendar below.  The park re-opened in March 2018 and tickets will be available to purchase shortly.
Paloma park is one of the nicest areas in Benalmadena away from the high rise hotels, it boasts a huge park with a lake, 3 cafe bars, animals and several play areas for the kids. There's loads of grass, often with rabbits running around and plenty of shade to escape the heat.  A great place to enjoy an after dinner drink and a stroll while watching the kids play on a summers evening.
Sea Life centre located in Benalmadena's award winning Puerto Marina will keep the kids entertained for a few hours, get up close and personal with sharks and stingray in the underwater tunnel. Afterwards spend the day or evening exploring the marina, there are lots of boat trip on offer, some include BBQ and free bar for a fixed price, and if you're lucky you might even spot some dolphins.
Benalmadena at night
You can walk along the Paseo on an evening and the choice of restaurants and bars is endless but make sure you spend at least an evening exploring Puerto Marina.
The marina is especially lovely at night, bustling with people and beautifully lit, the best place to enjoy it is in one of the restaurants on the upper level with panoramic views over the port.  Angus Steak house is particularly good.  There are lots of bars and shops too and also an amusement park just behind the Marina with plenty rides for the kids to enjoy.
You can't visit Benalmadena without spending an evening in the Pueblo, a traditional Spanish village with fantastic views over Fuengirola and Benalmadena.
Catch a bus from the coast road and meander through the quaint little white washed streets, many of which are closed to traffic.
Have a bite to eat in one of the restaurants overlooking the La Niña fountain in the pretty Plaza de España. Afterwards take a short stroll up to the beautiful Santa Domingo church where the views over the Costa are second to none.
If you have spent most of your holiday on the coast, the Pueblo will feel like a welcome break, it has a much more laid back and tranquil feel to it.
In August the village comes alive in the evenings when it is transformed into a fantastic Arabic market. Belly dancers will entertain you with their rhythmic moves and enchanting music, sample traditional Arabic street food and of course a Mojito, there's even rides for the kids.
Don't Miss – Benalmadena Things to do
Paloma Park – Great family day out
Benalmadena Marina – This award winning marina is a must see, stroll around it day or night, have a bite to eat or take one of the boat trips on offer, some fabulous restaurants on the upper level with the best views over the marina.
Cable Cars and Tivoli World theme park
Take a trip to the Pueblo to see the more authentic side of Spain
Selwo Marina – The best dolphin shows
Weekly Market – Every Friday from 10 til 2 there is a huge market located at the Tivoli World car park, you can buy everything from toys, clothes, bags, Spanish pottery and textiles, flowers and an excellent range of fresh fruit & veg too.
Sea Life Aquarium – Located in Benalmadena Marina, this is a great way to escape the heat whilst getting up close to some amazing sea creatures; watch shark feeding, hold a crab and walk through the fascinating under water tunnel.
Fuengirola – Best for a bargain break
The town of Fuengirola has been attracting tourists since the 1960's with around 25% of the population from other European countries.  Fuengirola is the last stop on the train from Malaga airport, It boasts 8km of fantastic wide beach along a promenade littered with chiringuitos specialising in fantastic fresh seafood.
You will be spoilt for choice for places to eat and drink as you walk along the main drag in Fuengirola, with Indian, Chinese, Thai, Lebanese and of course traditional Spanish among others.
The selection is quite overwhelming and because there is so much choice you will find the prices are exceptionally low with many bars offering a tea, coffee, wine or beer for just 1 euro!
Where to stay
Hotel Las Palmeras is right in the heart of things.  Opposite the beach, a few minutes walk to the marina and hundreds of bars and restaurants right on your doorstep.  There's a good sized swimming pool and the restaurant gets excellent reviews.
Things to do
Sohail Castle towers over the beach to the far West of Fuengirola and was an old Arabic ruin until renovations began in 2000; the castle now hosts music concerts and festivals throughout the summer months.
It is open all year round to tourists and for a small fee you can walk up the windy path to the top and have a peek inside.
The port area in Fuengirola area while not as flash as Malaga or Benalmadena is home to a new outdoor children's mini theme park.  Aimed at kids under 10, Sould Park is free entry and once inside you buy a card and simply top it up with money for the rides, there's a good cafe bar in the park too and drinks are very reasonably priced.
Fuengirola has its own water park on the outskirts of town, its not as big as the one in Torremolinos but its a little cheaper and has a very good play area for younger kids, check their websites for offers and family passes.
One of the best attractions is the Bio parc, formerly known as Fuengirola Zoo, it's very well kept and the scenery is beautiful, designed to mimic a rain forest, most importantly the animals always look happy and well cared for. There's different exhibitions throughout the day a good cafe and in summer months they open in the evenings.
To save money on your Bioparc tickets, book before you go it's cheaper than paying at the door when you get there and save time queuing.
Shop til you drop
Just behind the castle is Mirimar shopping centre, complete with aircon, a cinema (some English movies), a food court, large supermarket and great high street shops including Primark, all open 10am til 10pm Monday to Saturday! From the castle you can walk to it in less than 10 minutes, or take a taxi for a couple of euros and stock up on your holiday wardrobe essentials.
Get your bargaining head on because every Tuesday from 10am til 2pm Fuengirola has a great local market. On the feria ground in the Los Boliches end of the paseo the market is the place to go for just about everything and anything.  Pick up some lovely local handicrafts, fresh fruit and veg, clothes, bags, sunglasses, shoes, hats, and pashminas from just €2 each.
Fuengirola at night
For some much needed couple time book in a babysitter and get down to one of the best bars in Fuengirola, Speakeasy Jazz club. If you like jazz, or even just good live music and THE best cocktails around then this is the place to go.
It opens from 10pm until around 2am and is the most unique place in Fuengirola with different acts on every night, the theme of the bar mimics a typical jazz bar during the prohibition era, right down to the uniforms of the bar staff.
They specialise in gin cocktails and put their own spin on everything, some are served in tea cups, others in mason jars, either way…delicious!
The area known as "Fish alley" can be found just one street behind the main road running along the beach, right behind the recently renovated Hotel El Puerto. You can't miss it because the hotel features two 'round' high rise buildings and is around 100 metres from the marina.  If you get lost, just ask a local.
Fish alley is almost like a little village within Fuengirola, the narrow streets are full of restaurants with tables spilling out onto the pavements, so much so that you don't really know where one restaurant starts and the other ends.  There is no traffic in fish alley so its very safe and is always buzzing, especially in high season.
I recommend Aroma Restaurant for good steaks and seafood and Moochers Jazz Cafe for the most amazing pancakes and good live entertainment.
Fish alley also has a new food market, "La Galeria", based on the same concept as the previously mentioned Mercado Merced in Malaga.  Good for relaxed dining in a bustling atmosphere, grab your table and then browse the various food stalls on offer and see what takes your fancy.
Don't Miss – Fuengirola Attractions
Paddle Surf – Experience the latest fitness craze, 'paddle surfing' at Carvajal beach (opposite end to the castle), hire a board or take a lesson for around 15 Euros.
See some amazing animals at Fuengirola Bio parc
Choose one of the great restaurants in "fish alley" a maze of streets lined with restaurants and bars
Speakeasy Jazz club – Absolutely the best live jazz and cocktails for miles around, located under the Las Rampas hotel; replicating the classic bars of the prohibition era, a must visit!
Get the latest high street fashions at Miramar Shopping Complex, complete with cinema showing movies in English
Visit the huge outdoor market, every Tuesday morning on the feria ground.
Sohail Castle – Towers over the beach to the far West of Fuengirola and was an old Arabic ruin until renovations began in 2000; the castle now hosts music concerts and festivals throughout the summer months. It is open all year round to tourists and for a small fee you can meander up the windy path to the top and have a peek inside.
Marbella and Puerto Banus – Best for couples or clubbers
Marbella and Puerto Banus are not accessible by train; a taxi from the airport will set you back around 50 Euros, alternatively there's a bus service from the airport. For larger groups, the fastest and most cost effective way to get to your destination is private hire minibus.
These two neighbouring resorts are still best known as "the playground for the rich and famous", with many high profile celebrities and billionaires owning holiday homes here; and of course the cast of TOWIE who come back year after year.
Party, Party, Party!
Puerto Banus attracts party goers all summer long, with great beach and pool parties in full flow from mid May to the end of September. If champagne spray parties and all day drinking is your thing, there's plenty of options to flaunt your best bikini bod; Ocean Club, Plaza Beach and Nikki Beach to name a few.
They don't come cheap though, prepare to splash the cash as well as the champers with a Super VIP bed (for 14 people) on August bank holiday 2017 costing a whopping €7950 at Ocean Club.  While others are a bit more affordable at €200 which including a bottle of Dom Perignon.
Puerto Banus harbour is home to some of the most exclusive yachts and sports cars you are likely to see in one place. The super yachts, at least a few of which are owned by the Saudi Arabian royal family are moored here all year and come with a full team of body guards and chefs.
The port has an impressive front line packed with designer boutiques like Prada and Gucci where you could easily blow your total holiday budget in a couple of hours. As you would expect there are bars, clubs and restaurants aplenty, some with impressive roof top bars like Pangea for late night drinks under the stars.
Its not all catering for the rich and famous though,  go one row back to the second line and you'll find the likes of Linekers bar and plenty others where drinks are much more within budget.
Keep your eyes peeled and you might spot a celebrity enjoying a night out in one of the front line bars after dark.
Marbella is slightly more low-key and definitely more grown up than Puerto Banus, however it still has its share of swanky bars and clubs.  Head to Marbella's port after dark, smaller than Banus but lots prefer it, me included.  Lemmon is a great bar/club and really gets going after midnight with live DJ and live saxophonist weekend nights.
Marbella is much more versatile than Banus as it appeals as a great family destination too with a wonderful long promenade with literally hundreds of restaurants and bars offering all types of food.  There are children's play areas scattered all along the beach and restaurants are very accommodating for families.
Where to stay
Accommodation in Marbella ranges from basic and and reasonably priced 2 star hotels to stunning boutique hideaways.  It doesn't get more luxury than the amazing Puente Romano hotel, where you'd be lucky to get change from €1000 for a nights stay in peak summer.  Some say its not worth the money but believe me the attention to every detail is second to none here it really is a fantastic resort ever changing to keep up with demand.  Nobu restaurant has just announced it is opening in the hotel grounds in May 2017.
For the ultimate party hotel look no further than Sisu boutique Hotel in Puerto Banus.  This hotel never sleeps, just look at the reviews it gets! If you want see and be seen and party with the best of them then stay at Sisu.
Opened in 2018 the beautiful Nobu Hotel Marbella is by far the number 1 choice for couples and singles to spend a luxury holiday.
This hotel is second to none in terms of luxury, service, ambiance, food, you name it they've got it.  Nobu is in the best location within the grounds of the gorgeous Puento Romano Hotel on Marbella's sea front.  If you want to impress someone special, Nobu is absolutely the place to bring them, just read the reviews!
Marbella's best
As mentioned Marbella has a lovely port area where you can sip a delicious cocktail on one of the terraces by day and watch it come to life as night falls.
Just a five minute walk from the port and you'll reach the old town although it seems a million miles away from the towering hotels lining the coast.  The rustic buildings around Orange Tree Square, named as there are literally hundreds of orange trees providing much needed shade for diners in the heat of the day.
Little shops litter the cobbled streets among the white washed houses, closed to traffic so ideal for a stroll after dinner when the shops re-open after siesta time or take in an authentic Flamenco show with dinner at Flamenco Ana Maria.
Some of the best restaurants can be found away from the main square tucked away in the narrow side streets so take your time reading menus and selecting one that takes your fancy.
Shopping in Marbs
Banus has an impressive selection of designer shops along its front line.  The last time I checked, the Cartier shop had a pair of Aviator sunglasses priced at €2,500, no wonder they have doormen marking the entrance!
For all your high street needs, look no further than La Canada indoor shopping mall just a few km from Marbella town centre.  This place is my guilty pleasure, there's so many fab high street clothes, shoes and cosmetic shops under one roof.  You can even shop at Hollister, Top Shop and good old Marks & Spencer, then grab a Costa Coffee before you leave.
Don't Miss – Puerto Banus / Marbella
Flamenco Ana Maria – The place to see authentic Spanish folklore at its best, the atmosphere is perfect, very dark and moody and the dancers, singers and guitarists give it their all. Located in the old town (Casco Antigua), shows at 11pm and includes tapas and wine, an unforgettable experience.
Stroll around the orange tree lined streets in beautiful Old Town in Marbella
Beach clubs – You can't come to Marbella/Banus and not go to one of the famous day clubs, Nikki Beach, ocean Club and Puro Beach to name a few; even if you haven't got a few thousand to squander on spraying your mates with bottles of 'Dom Pom', go anyway to see what it's all about.
Take in the mesmerizing sites of Puerto Banus.
Marbella Old Town (Casco Antiguo) – Really can't stress enough about how the old town is an absolute must see. It is a beautiful Andalucian village just a few minutes walk from Marbella port. Fantastic shops, a mix of traditional and modern restaurants and quaint little cobbled streets to explore.
Shopping in Banus take a backup credit card!
Horse and carriage ride around Marbella parks and cobblestone streets
Eat tapas in many of the fantastic Spanish restaurants
Sip on a cocktail in relaxing Marbella port
There you have it, some of the best resorts the Costa del Sol has to offer and the warm Mediterranean climate means that this is an ideal year round tourist destination.
The close proximity of all of the holiday resorts to Malaga airport is a great incentive and with flights of under 3 hours from the UK…what more can you ask for.
Did you enjoy this post? Please Tweet it and share it on Facebook.  If you have visited any of these resorts let me what you loved or didn't by leaving a comment below!