Costa del Sol: Top 5 Popular Holiday Resorts On The South Coast of Spain
The Best Beach Resorts in Malaga
Discover art, culture and top class cuisine in Malaga city, keep the kids entertained in Benalmadena and party til the early hours in Puerto Banus. The region of Malaga has so much to offer and there's something to suite everyone.
Malaga – Best for culture & sight seeing
Malaga, once overlooked as a holiday destination with tourists favoring nearby resorts, has come a long way in recent years.  Now the city offers a fantastic mix of both modern and traditional as well as being one of the best beach resorts in Spain.
Arriving in Malaga is easy, located just 8km from the airport the train will take you from the airport into the city centre (Malaga Centro station) in around 15 minutes.
Once you arrive in the heart of Malaga the best way to get around the city is on foot…the best way to get around the city is on foot.  Around 1km West of the centre head towards the famous marbled streets around Calle Larios to see some beautiful architecture, fantastic shops and tons of cafes and restaurants.
Don't be afraid to venture down some of the side streets where you will find some great boutique shops and more intimate cafe bars.
El Pimpi restaurant, an institution in Malaga, is one of the oldest bars and wine cellars in the city.  The bar itself is decorated with hundreds of wine barrels and although the restaurant is most famous for its authentic tapas,  you can also sample a glass of traditional sweet Malaga wine.
The new marina area of Malaga has been an instant success, cleverly designed with a great selection of restaurants and bars appealing to the many cruise ship passengers that dock here as well as locals.  The famous Pompidou art centre is based on the port and now 'La Noria', Malaga's own version of the London eye.
But to escape the heat and hustle and bustle, head down to one of the cities great beaches.  The nearest is La Malagueta which gets quite crowded in summer so if you are looking for somewhere a bit quieter take a stroll along the promenade heading East towards El Palo and enjoy the sight and smell of 'Espetos', sardines grilled over an open wood fire on the beach. Malaga port now boasts a plethre of boutique bars and restaurants for all tastes..
After dark is when Malaga city really comes to life, the nightlife or 'La Marcha' doesn't really get going until the early hours with clubs going strong until around 6am.
If its a quiet meal and a few drinks you prefer the city is bursting with places to enjoy all types of cuisine and there are some fantastic roof top bars which are the place to be for sun-downers and great views of the skyline.
The new Mercado Merced a gourmet food market, located near Plaze de la Merced in the historic centre and a few steps from Picasso's birthplace has been a roaring success since opening late 2015.  With 22 stalls showcasing Malaga's developing food scene, the choice is endless and even the pickiest of eaters will find something tempting.
The swish new Hotel Room Mate Valeria has got people talking, recently opened for summer 2016.  It is in possibly the best location in the city, bang central and within walking distance of the marina, old town and beach. It also has a great roof top bar and pool.
For art lovers, look no further than the museum of Pablo Picasso in the city centre, Malaga was the famous artist's birthplace and the museum has over 250 pieces of art donated by Picasso's family members.  If Picasso isn't your thing, there are no less than 20 other museums in Malaga.
The Malaga Pass has to be the best and cheapest way to see the best Malaga has to offer. With over 24 of the top tourist attractions included as well as discounts on hotels, shops and tourist services this one stop pass priced at just €28  guarantees you free entrance into all listed attractions and no queues!

Torremolinos – Best for cool beach bars & seafood lovers
The great thing about Malaga airport is its proximity and ease of access to so many great coastal resorts, Torremolinos being the closest.
Hop on the train at the airport heading West and the first resort you will come to is Torremolinos; attracting visitors since the late 1950's, many of whom laid down roots here as the resort now has a huge expat population.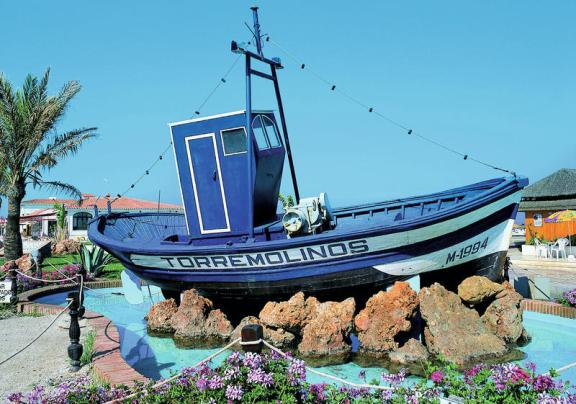 The area known as The Carihuela which borders Torremolinos and Benalmadena is a new more modern area.
It features a long promenade overlooking a wide sandy beach with lots funky chiringuitos (beach bars) which attract a young crowd in summer looking for a beach party atmosphere.  The best place to enjoy a traditional paella or Espetos (sardines) is one of the many chiringuitos lining the beach front.
If shopping is more your thing you're in the right place, The Carihuela has tons of boutique style clothes shops to tempt you, all at very reasonable prices, you can pick up some designer brands too.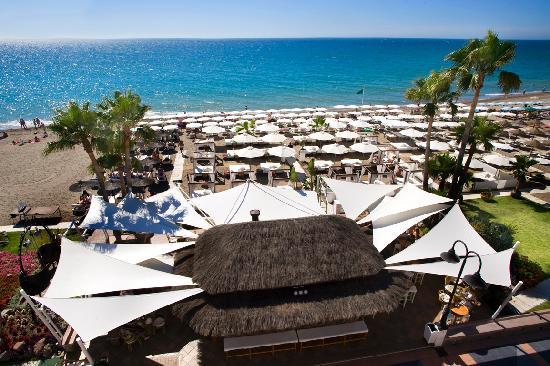 Torremolinos offers plenty for the kids to do; spend an adrenaline filled day at Aqualand, the biggest water park in Malaga with kamikaze's, rapids and a great kids zone the little ones will love.
Bateria Park stands high overlooking The Carihuela and the beach, its completely flat with walking and cycle paths around the perimeter, a large kids play area and a man made lake with boating for just €1 for 30 minutes.  At the far end overlooking the beach still stands a watch tower with artillery guns and a tunnel the kids will love to explore.
Benalmadena – Best for families
Benalmadena is the place to go if travelling with children, with loads of great attractions for the whole family you'll never be bored.  Take the train from the airport and get off at Arroyo de la Miel station which is the town centre of Benalmadena, the coast is just a 5 minute taxi ride away.
Tivoli world amusement park and cable cars up to the top of the mountain with shows featuring birds of prey are both within walking distance of the station.  Check out the website for opening times as hours vary throughout the season and they only open evenings in summer.
short stroll up to the beautiful Santa Domingo church where the views over the Costa are simply breathtaking
A little bit further but still accessible on foot or a short taxi ride is Selwo Marina conveniently located next to Paloma Park.  Selwo is great for all the family, see the penguins at feeding time and watch dolphins do some amazing tricks.
Paloma park is one of the nicest areas in Benalmadena away from the high rise hotels, it boasts a huge park with a lake, 3 cafe bars, animals and several play areas for the kids. There's loads of grass, often with rabbits running around and plenty of shade to escape the heat.  A great place to enjoy an after dinner drink and a stroll while watching the kids play on a summers evening.
Sea Life centre located in Benalmadena's award winning Puerto Marina will keep the kids entertained for a few hours, get up close and personal with sharks and stingray in the underwater tunnel. Afterwards spend the day or evening exploring the marina or take one of the many boat trip on offer and you may even spot some dolphins.
The marina is especially lovely at night, bustling with people and beautifully lit, the best place to enjoy it is in one of the restaurants on the upper level with panoramic views over the port.  'El Greco' Greek restaurant and 'Angus Steak house are both excellent.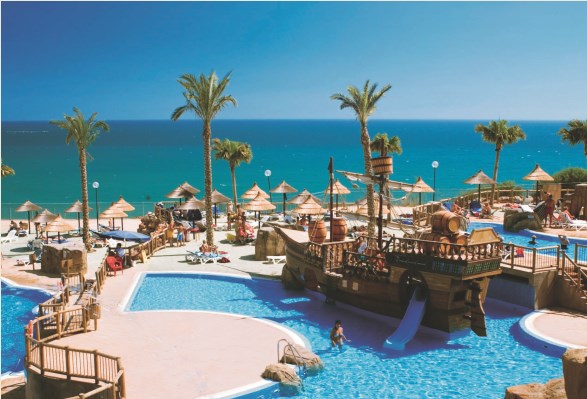 You can't visit Benalmadena without spending an afternoon or evening in the Pueblo, a traditional Spanish village with fantastic views over Fuengirola and Benalmadena.  Catch a bus from the coast road and meander through the quaint little white washed streets, many of which are closed to traffic.
Have a bite to eat in one of the restaurants overlooking the La Niña fountain in the pretty Plaza de España.  Afterwards take a short stroll up to the beautiful Santa Domingo church where the views over the Costa are second to none.
In August the village comes alive in the evenings when it is transformed into a fantastic Arabic market. Belly dancers will entertain you with their rhythmic moves and enchanting music, sample traditional Arabic street food and of course a Mojito, there's even rides for the kids.
Fuengirola – Best for a bargain break
The town of Fuengirola has been attracting tourists since the 1960's with around 25% of the population from other European countries.  Fuengirola is the last stop on the train from Malaga airport, It boasts 8km of fantastic wide beach along a promenade littered with chiringuitos specialising in fantastic fresh seafood.
You will be spoilt for choice for places to eat and drink as you walk along the main drag in Fuengirola, with Indian, Chinese, Thai, Lebanese and of course traditional Spanish among others.
The selection is quite overwhelming and because there is so much choice you will find the prices are exceptionally low with many bars offering a tea, coffee, wine or beer for just 1 euro!
Sohail Castle towers over the beach to the far West of Fuengirola and was an old Arabic ruin until renovations began in 2000; the castle now hosts music concerts and festivals throughout the summer months.
It is open all year round to tourists and for a small fee you can walk up the windy path to the top and have a peek inside.
The port area in Fuengirola area while not as flash as Malaga or Benalmadena is home to a new outdoor children's mini theme park.  Aimed at kids under 10, Sould Park is free entry and once inside you buy a card and simply top it up with money for the rides, there's a good cafe bar in the park too and drinks are very reasonably priced.
Fuengirola has its own water park on the outskirts of town, its not as big as the one in Torremolinos but its a little cheaper and has a very good play area for younger kids, check their websites for offers and family passes.
Another great attraction is the Bio parc, the zoo is very well kept and the scenery is beautiful, designed to mimic a rain forest, most importantly the animals always look happy and well cared for. There's different exhibitions throughout the day a good cafe and in summer months they open in the evenings.
For some much needed couple time book in a babysitter and get down to one of the best bars in Fuengirola, Speakeasy Jazz club. If you like jazz, or even just good live music and THE best cocktails around then this is the place to go.
It opens from 10pm until around 2am and is the most unique place in Fuengirola with different acts on every night, the theme of the bar mimics a typical jazz bar during the prohibition era, right down to the uniforms of the bar staff.
They specialise in gin cocktails and put their own spin on everything, some are served in tea cups, others in mason jars, either way…delicious!
Marbella and Puerto Banus – Best for couples or clubbers
Marbella and Puerto Banus are not accessible by train; a taxi from the airport will set you back around 50 Euros, alternatively there's a bus service from the airport. For larger groups, the fastest and most cost effective way to get to your destination is private hire minibus.
These two neighbouring resorts are still best known as "the playground for the rich and famous", with many high profile celebrities and billionaires owning holiday homes here; and of course the cast of TOWIE who come back year after year.
Puerto Banus attracts party goers all summer long, with great beach and pool parties in full flow from mid May to end of September. If champagne spray parties and all day drinking is your thing, there's plenty of options to flaunt your best bikini bod; Ocean Club, Plaza Beach, La Sala by the Sea to name a few.
They don't come cheap though, prepare to splash the cash with some VIP beds setting you back over €5000 on champagne spray party days, others slightly more affordable at €200.
Puerto Banus harbour is home to some of the most exclusive yachts and sports cars you are likely to see in one place. The super yachts, at least a few of which are owned by the Saudi Arabian royal family are moored here all year and come with a full team of body guards and chefs.
The port has an impressive front line packed with designer boutiques like Prada and Gucci where you could easily blow your total holiday budget in a couple of hours. As you would expect there are bars, clubs and restaurants aplenty, some with impressive roof top bars like Pangea for late night drinks under the stars.
Its not all catering for the rich and famous though,  go one row back to the second line and you'll find the likes of Linekars bar and plenty others where drinks are much more within budget.
Keep your eyes peeled and you might spot a celebrity enjoying a night out in one of the front line bars after dark.
Marbella is slightly more low-key and definitely more grown up than Puerto Banus, however it still has its share of swanky bars and clubs, Olivia Valere being the most exquisite.  More versatile than Banus as its also a great family destination with a wonderful long promenade with literally hundreds of restaurants and bars offering all types of food, as well as children's play areas scattered along the beach.
Accommodation in Marbella ranges from basic and and reasonably priced 2 star hotels to stunning boutique hideaways as well as the luxury Marbella Club, where you'd be lucky to get change from €1000 for a nights stay in peak summer.
Marbella has a lovely harbour area where you can sip a delicious cocktail on one of the terraces by day and watch it come to life as night falls. Marbella's finest come out to dance the night away in the likes of 'Lemmon', one of the most established bars on the port.
Just a five minute walk from the port and you'll reach the old town although it seems a million miles away from the towering hotels lining the coast.  The rustic buildings around Orange Tree Square, named as there are literally hundreds of orange trees providing much needed shade for diners in the heat of the day.
Little shops litter the cobbled streets among the white washed houses, closed to traffic so ideal for a stroll after dinner when the shops re-open after siesta time or take in an authentic show at Flamenco Ana Maria.
Some of the best restaurants can be found away from the main square tucked away in the narrow side streets so take your time reading menus and selecting one that takes your fancy.
La Villa Marbella and Hotel Claude are both charming boutique hotels in the heart of the old town and still within a few minutes walk of the port and beaches of Marbella.
There you have it, some of the best resorts the Costa del Sol has to offer and the warm Mediterranean climate means that this is an ideal year round tourist destination.
The close proximity of all of the holiday resorts to Malaga airport is a great incentive and with flights of under 3 hours from the UK…what more can you ask for.
How Much Does It Cost To Travel To Spain?
Check out the below infographic and see your true holiday costs.
Did you enjoy this post? Please Tweet it and share it on Facebook.  If you have visited any of these resorts let me know your thoughts by leaving a comment below!